Research has shown that the hotel bathroom is becoming as important as the sleeping space in creating an enjoyable guest experience. We take a look at what 2023 has in store for these often spa-like but hard-working spaces.
Sustainable Design
Global warming can no longer be ignored and this is predicted to continue to impact on purchasing habits for 2023. In general, the world is more concerned than ever before about sustainability and protecting the planet, which will no doubt play a big part in hotel bathroom design, whether it's for large chains or small boutique establishments. This may include choosing only to work with companies who act in an environmentally-conscious way or by choosing products which are made from recycled materials, include sustainable features or are built to last – and of course they still have to look good too.
Nick Duggan, MD of The Radiator Centre comments, "The incentive for hotels to embrace sustainable design isn't just from lower energy costs, hotels are also recognising that choosing this route may also attract new customers, who consider sustainability very important. From water-saving showers and taps to energy efficient towel rails, there are many ways in which a hotel bathroom can be designed to be more sustainable. Of course, many of these already innovative products now also include Smart technologies which can help further with efficiencies by making it easier to regulate water and energy consumption, for busier and quieter times in the hotel."
In terms of radiators, Nick explains, "Energy efficient radiators and towel rails work by using a much lower volume of water, thanks to LowH2O technology. Less water means less energy is needed to heat the radiator up which in turn results in savings both for the hotel and the environment. Aluminium radiators have less water content and faster reaction times than their steel equivalents and hence are a good choice for sustainable hotel bathrooms."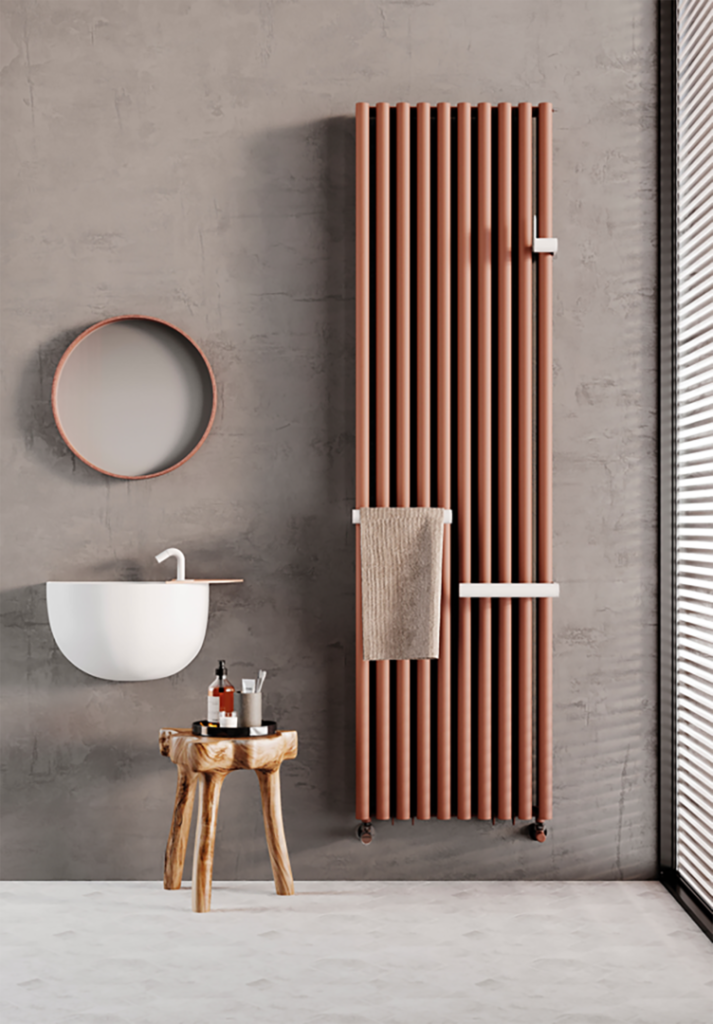 Pastel Dreams
Whilst the black and white luxury, marbled look is never likely to go out of fashion, 2023 is predicted to see more colour being introduced in hotel bathroom design. From bathroom products and displays at Salone del Mobile Milano earlier this year, this is expected to be in the form of pastel shades such as sage green, seasalt blue and softer palettes of coral and terracotta. These restful colours can help a hotel bathroom to feel more personal and homely, and may be introduced in a wide variety of ways from tiling and wall colours to radiators and cabinetry. These beautiful colours also give a nod to Mediterranean style, helping to create a relaxed holiday vibe for guests.
Wellness
The trend of wellness came to the fore-front post pandemic but is showing no signs of going anywhere. Indeed, hotel guests now view it as a holistic expectation from their hotel experience and the hotel bathroom plays a huge part in this. From luxury resorts to family hotels, guest expectations of the hotel bathroom have become a lot higher, with guests seeing it as somewhere to relax and recharge. It is no longer just a practical space, it needs to deliver in terms of looks and experience too.
While a wellness bathroom may feature functional elements such as the latest Rain-spray showerheads and jacuzzi baths, the look and feel of the room is of equal importance for guests to achieve that relaxed spa-like feel. Lighting plays a big part in this as do biophilic elements, with connection to nature widely understood to help reduce stress and improve health.
Also key to a wellness space is a clutter-free environment, hence storage elements are key in order to achieve this. Nick comments, "Hotel towel rails play an important part in not just warming and drying towels but also storing them. Many of the latest designs include options for hooks, shelves or rails, and the way the towels are stored and displayed becomes part of the overall look. As with every aspect of the room, it needs to not only be functional but fit with the interior style too."
A Cohesive space
With wellness being seen as such an important part of the guest experience, the lines are becoming more blurred between the hotel bathroom and the suite or sleeping space itself. The bathroom is starting to be prioritised more, with more of the total space allocated to it. There is a shift towards a more cohesive design between the two spaces, which in turn creates the illusion of a bigger space overall.
As Nick comments, "Bathrooms need to live up to the design and quality of the sleeping space and the use of colours, texture, lighting and accessories can help to achieve this. Bathroom towel rails don't have to conform to the traditional ladder style and the latest designs look sleek and stylish, helping to create a feeling of luxury and cohesion between the two spaces."