When I first heard about an only turkey restaurant I was not only intrigued but slightly sceptical, simply because I THOUGHT there wasn't much you could do with turkey other than put cranberry on it.  I was very wrong!!
As I walked into Strut & Cluck on the bustling Commercial St at a stone's throw away from the world famous Shoreditch I was taken in by the lively atmosphere & what seemed to be full of happy chatty friends enjoying the fabulous menu. The rustic but yet contemporary décor had a very homely feel with its quaint little touches, such as the uneven cutting in of the paint job.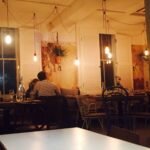 The tapas style menu with various turkey based foods & fresh ingredients is a novel idea and brilliantly executed through Middle Eastern flavours. The generous servings & off the bone meat with the sharp but sweet tastes complement's each other to create a taste sensation. All this with the pure protein from the turkey, is a dream come true for a fitness man like myself.
It's Refreshing to see something new in London & in it ideal location of East London, its perfect for an intimate meal or a catch up with friends. Somewhere to grab a decent bite after a hard day's work. It's a place you could take the whole family from nans birthday to a celebration of graduating from Uni. As well as catching up some old army buddies ready for a night out in Brick Lane.
All in all Strut and Cluck is a fabulous place with a sophisticated touch both in terms of ambience and design but also the cooking.  At the same time the experience is very informal and the service was absolute fantastic – prompt and professional the staff are incredibly friendly, all of which made us very welcome and provided a good service considering how busy it was the crew did an excellent job.
This is a perfect place for a modern Christmas meal!!!