Dimplex Opti-Myst And Opti-V fires for hotels, bars and restaurants
Dimplex's impressively realistic 3D flame and sound effects from the Opti-myst® and Opti-V® range of electric fires provide a year-round, fuss free way for hotels, bars and restaurants to gain the ambience of a real fire without the mess and safety concerns commonly associated with the naked flame.
The Dimplex Opti-myst effect, which has already proved popular in a variety of settings including hotels, restaurants, bars, domestic properties and even TV and theatre productions, uses a unique water mist based technology to create the illusion of real smoke and flames – an effect that truly has to be seen to be believed.
The Opti-myst cassette range has been specially developed for commercial installations, combining the unique effect in a series of connectable cassette models of varying sizes for full design and installation flexibility.
Dimplex's Opti-V, is a stunningly realistic electric flame effect which combines real fire footage displayed on a high definition LCD screen with a unique illusory technique to create a 3D effect of flickering flames – complete with smoke and burning embers.
Both flame effects enable hotels, bars and restaurants to deliver all the ambience of a fire in a leisure environment, creating opportunities that would not otherwise be available with real flames because of safety issues or unwelcome heat.
Jonathan Smith, product marketing manager at Dimplex, said: "Dimplex's Opti-myst technology has already proved extremely popular in the domestic fires market but with the Opti-myst cassette range, we are pleased to offer hoteliers, bar and restaurant owners the flexibility to bring it to their own showcase properties.
"A combination of Opti-myst cassettes can be built and used as a stunning focal point in the room, offering a unique and eye-catching illusion – perfect for commercial environments."
For a more traditional interior, the Silverton basket fire is also available and the perfect solution to an empty fireplace.  With a glowing ash bed to further enhance the real fire illusion, the Silverton creates a real atmospheric focal point for spaces where a welcoming ambience is required, but a heat output is not desired.
The Dimplex Opti-myst Cassette 1000
Realistic Opti-myst flame and smoke effect
Can be plumbed to water supply or bottle fed
Adjustable flame, smoke  and sound effects
Remote control
Dimensions: inset H: 240mm; W: 1,017mm; D: 354mm
ERP: £1400.00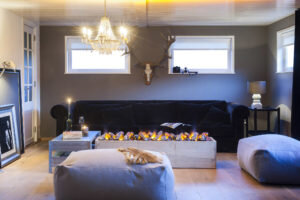 The Dimplex Opti-V PGF-20
2 x LCD television screen: High Definition 1,920 x 1,080 pixels full colour 22″ display rated at 22W
Note: This fire does not contain a heater
Dimensions: H: 445mm; W: 1,356mm; D: 320mm
ERP: £2,999.99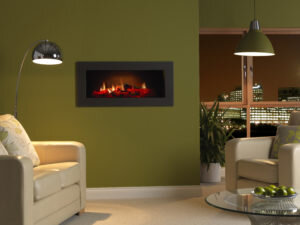 The Dimplex Opti-myst Silverton Basket Fire
Realistic Opti-myst® flame and smoke effect
Low energy LED special effect lighting
Remote control
Note: This fire does not contain a heater
Dimensions: H: 305mm; W: 684mm; D: 355mm
ERP: £469.99
Visit www.dimplex.co.uk/fires or call 0800 028 6122.